---
5 Recommended wildlife experiences
Welcome to Cape Town! South Africa's melting pot of cultures, languages and bountiful festivities around every corner. Not only Cape Town home to Natural World Heritage Sites, the 7th Wonder of the World and one of the world's most renowned botanical gardens, but a vibrant city with exquisite museums & galleries, phenomenal dining and coffee shops galore – let's not forget 'Truth Coffee' voted best in the world.
With all these opportunities around you, why not indulge in the many options? Take a truly 'African safari' or wet your feet shark diving? Alternatively, simply relax and tan on the soft sands of the famous Clifton beaches. With the skyward mountains, sun-kissed beaches of Camps bay, lush-green forests of Tokai & Newlands, Cape Town has something to anyone.
Duiker island: Cape fur seals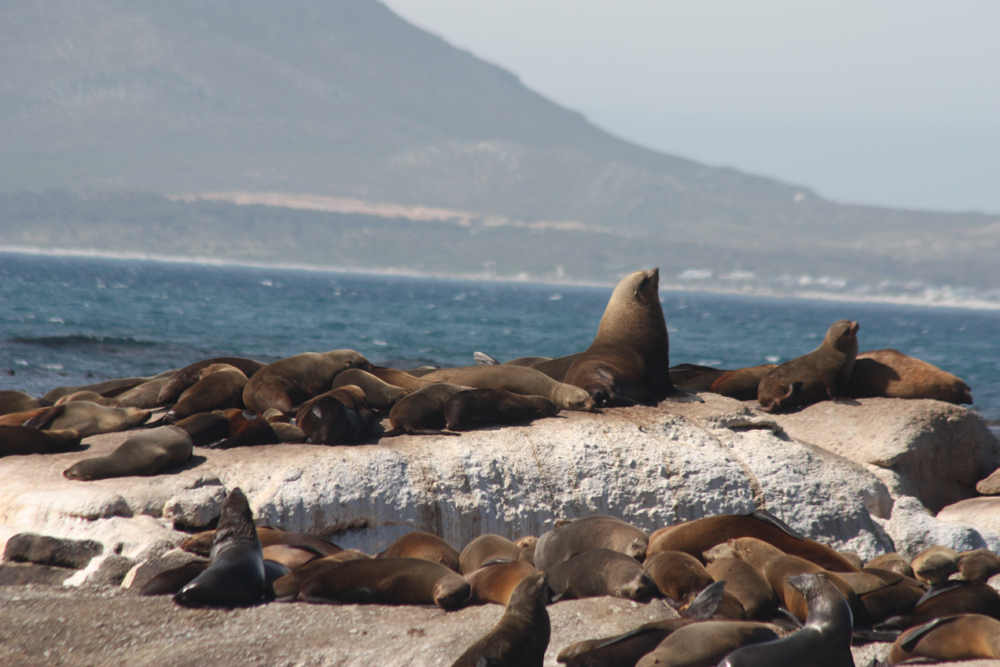 Lovingly known as the 'dogs of the sea' for their sweet nature and playful frolicking, the Cape Fur Seals naturally occur on islands around SA and are found nowhere else in the world. Duiker island is home to over 6000 seals who love to sun themselves about on the rocks and audibly snort and grunt at one another, bobbing in the swell while keeping an eye out for fish to eat. They're mostly brown, but shades vary from caramel to dark chocolate.
The pups are born black and slowly grow lighter. These water-logged dogs are inquisitive and friendly when in the water, and will often 'escort' scuba divers and snorkelers – but a word of caution: on land they are far less relaxed and tend to panic when people come near them, so rather keep your distance.
While the local fishermen may complain about the mischievous bunch, they are a pleasure to watch as they dance in in the water, jouncing along the boat and will often hold a flipper held high to give you high-5. The seals are on the island all year around, however are most active and abundant in the heat of Cape Town's summer. So beat the heat and climb on board one of Drumbeat Charters' cruises. Not to forget, you can also spot these pups at Robben Island (Dutch for 'seal island') You are guaranteed to encounter pod of Cape Furs cavorting about.
Drumbeat Charters – Hout Bay
021 791 4441 / 082 658 7055
drumbeatcharters@intekom.co.za
Adults: R75 Kids: R30 – Operating Daily.
African penguins of boulders beach
Boulders Beach near Simon's Town is arguably one of the most beautiful spots in Cape Town – not simply for the venerable granite boulders, crashing crystal-blue waves and the silky white sands, but it's tiny tuxedoed locals!
The African penguins (fondly known as jackass penguins, because of the braying sounds they make) established their colony 1983 and remains the only place in the world where one can get up-close to African penguins. Boulders itself consists of 3 pristine beaches, 1 penguin viewing area and 3 boardwalks.
The boardwalks are placed as a measure to allow for viewing of these marvellous birds, whilst keeping them safe from poking fingers and irresponsible behaviour of people, so please be sure to stay on the boardwalks at all times within the viewing area. You should be able to see the fancily dressed fellows throughout the year – but for a real treat, try to visit in January when the juvenile birds are moulting on the beach. Of course Beach space depends on the tides, so make sure to come at low tide and visit early in the morning or late in the afternoon.
Tips: Please take care not to touch or feed the penguins – they may look cute and cuddly but their beaks are as razor sharp and if they feel threatened they have no qualms about nipping a finger or nose!
There is limited parking, so arrive early during peak Summer months.
Boulders Visitor Centre:
+27(0) 21 786 2329 – Adults: R65 Kids: R35
Operating Hours: 7 days a week
Dec – Jan: 07h00 – 07h30
Feb – April: 08h00 -18h30
May – Sept: 08h00 – 17h00
Oct – Nov:  08h00 – 18h30
3 Kleintuin Rd, Simon's Town
Great White Shark Cage Diving in Gaansbaai
Looking for a heart-pumping adrenaline-spiking experience? Why not swim with the Atlantic's most ferocious fish in the Great White Shark capital of the world Gansbaai? Walk, or rather, swim on the on the wild side with a life-changing experience you will most certainly never forget. Shark diving in can be divided into 2 main seasons: High season – May to October: this the best time to see Great White sharks as the visibility is good and shark activity escalates. Low season: January to March, however shark activity still continues and you have a good chance of spotting these majestic creatures.
To avoid disappointment, we recommend that you call the company and ask about their current shark sighting and/or schedule a few days before. As a heads up, it's a stunning boat ride out with the pros wherein 4/5 people jump in the cage at one time upon a sighting. Although the water temperature may shock you more than the shark, the adrenaline will warm you up quickly!
Although nothing beats a genuine face-to-face encounter with a Great White, there is also the option to either just tag along for the boat ride or see the phenomenal show from the upper deck of the boat – don't forget those cameras!
Our recommended top 3 diving companies:
Supreme Sharks
+27 (0)28 384 2316 / info@supremesharks.com Range: +- R1 250 – offers transport
www.supremesharks.com
Marine Dynamics Shark Tours
(0)799 309 694 / dive@sharkwatchsa.com
+ – R1 750. Offers transport.
www.sharkwatchsa.com
White Shark Diving Company
021 671 4777 / info@sharkcagediving.co.za
+ – R1 600 – Offers transport.
www.sharkcagediving.co.za
Chocma Baboons of Cape of Good Hope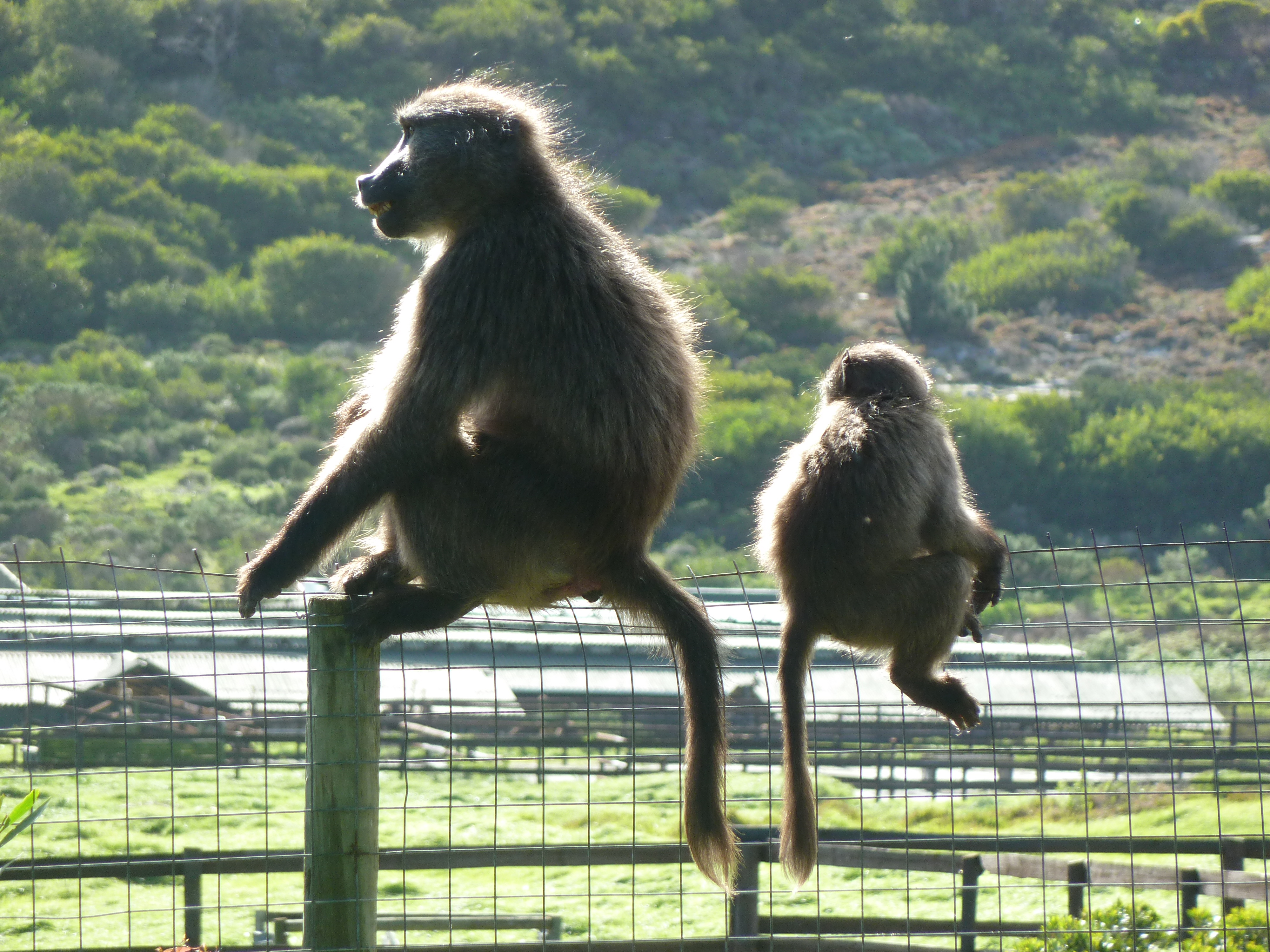 If you have taken a road trip along the coastal road, you will have bound to bump into a troop or two of some furry primates lolling about foraging, playing or fussing over one another – A human society in miniature, the Chacma baboons in the Cape Of Good Hope Park are truly interesting and uniquelot to observe.
What makes this particular large collection of 6 troops unique is during the low tide they may be found roaming the beaches feeding on sand hoppers and shellfish – a very unusual behaviour for primates as their diet mainly consists of fruits, roots, bulbs, insects and scorpions.
Watching this bunch can be very rewarding – but do so from a discreet distance. Please don't get out of your car and leave it open, especially if you have food inside. Keep your windows mostly up and even your doors locked as these quick and agile baboons have been known to jump into cars and steal food, bags and any loose items! The dominant males have especially large teeth and a dangerous (and painful) bite.
Do not feed these animals because this leads to problem behaviour from these highly intelligent primates. These primates are also notorious for their destructive behaviour and if conditioned to receive food may have to be eliminated for public safety.
The Chacma baboon troops on the Cape peninsula are the only protected population of the species in the world due to human activity and interaction.
Here are some do's and don'ts:
DO keep a safe distance from baboons
DO move away slowly if a baboon approaches you
DO takes pictures from the safety of your vehicle or a safe distance
DO NOT display food when baboons are visible
DO NOT tease or agitate the baboons
DO NOT open the windows or doors of your car when baboons are present
DO NOT feed baboons. You will be fined.
Big 5 Safari
A literal bucket-list experience.
You will usually get the option to choose between a day trip or an over night stay. Their are a few Game Reserves located in the outskirts of the Karoo desert, about 2- 2.5 hours drive from central Cape Town.
A day trip will usually include lunch in the cost and the overnight stay will be a full board indulgent.
Recommended Posts
April 04, 2022
March 17, 2022
February 24, 2022