---
Fine Dining in Somerset West & Stellenbosch
95 at Morgenster
A new world class restaurant with the best of both worlds. The new restaurant menu is a mix of the already proven successful dishes of 95 Keerom and Carne collection. Starting with lunch, a versatile private dining room can be configured to cater for up to 60 people – ideal for celebrating special occasions.
Address: Vergelegen Avenue, Off Lourensford Road, Somerset West
Tel: 021 204 7048
www.95atmorgenster.com
96 Winery Road
Perfecting winelands dining for the past 21 years, 96 Winery road is an iconic Stellenbosch restaurant with an award-winning wine list to top it off.
Address: Zandberg Farm, Winery Road Off the R44 between Stellenbosch and Somerset West
Tel: 021 842 2020
www.96wineryroad.co.za
Avontuur Restaurant
Owner chefs Melanie and Zunia share their passion for food along side their passion for people. Guests return for their crispy duckling, succulent fillet and deep fried ice cream. Portions are hearty, bursting with flavour and beautifully presented.
Address: Avontuur Estate, R44, Somerset West
Tel: 021 855 4296
www.avontuurestate.co.za
Bistro 13
Stellenbosch Vineyards and celebrity chef Nic van Wyk, co-judge on Kyknet's reality cooking show Kokkedoor owns directs a venue and restaurant, Bistro 13, on Welmoed Estate, Stellenbosch.  Nic has classical training and experience with Franck Dangereux at La Colombe, and his success with Terroir restaurant, are brilliantly evident in Bistro13's menu and restaurant philosophy. He is aptly assisted by his right-hand man, Juan van Zyl, previously sous chef at Rust and Vrede.
Address: Welmoed Estate, Baden Powell Dr
Tel: 021 881 3044
www.bistro13.co.za
Camphors
The Camphors at Vergelegen signature restaurant takes its name from the ancient giant camphor trees, planted in 1700, situated in front of the historic Homestead.  The restaurant overlooks expansive lawns and beautiful trees complementing the overall dining experience and creating an ambiance never to be forgotten.
Address: Vergelegen wine estate, Camphors at Vergelegen
Tel: 021 847 1346
www.vergelegen.co.za
Cuvée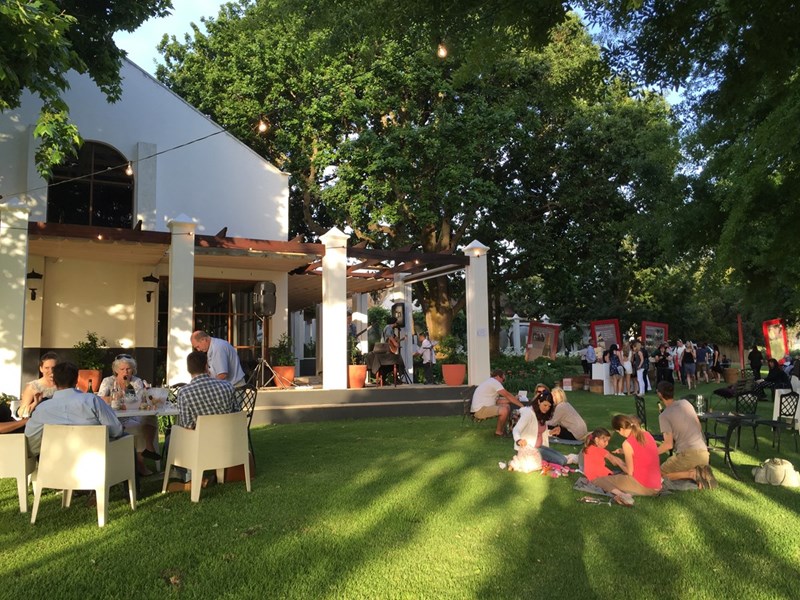 Guests can expect a locally inspired, seasonal menu drawing from only the best quality meat, poultry and seafood sourced from reputable boutique suppliers, with fruit and vegetables sourced from their organic garden.
Address: Simonsig Wine Estate, Kromme Rhee Road, Koelenhof
Tel: 021 888 4932
www.simonsig.co.za
Delaire Graff Estate Restaurant & Indochine
Enjoy every moment of exquisitely balanced Asian-influenced flavours in their intimate setting.  Inside, a vibrant blue and copper colour palette creates a calming backdrop. Dine under the stunning Swallows in Flight art installation, sculpted by Lionel Smit and Andre Stead, where over 1000 swallows become part of the incredible views that stretch across to Table Mountain.
Address: Helshoogte Rd
Tel: 021 885 8160
www.delaire.co.za
Jordan Restaurant
One of the first signature chef restaurants in the Cape Winelands, the Jordan Restaurant with George Jardine brings top chef George Jardine's brand of contemporary fare from city to country. The focus on the flavours of locally sourced, seasonal ingredients is evident from his kitchen vegetable and herb garden to wine barrel fish smoker and wood-fired oven. Expect smoky, smouldering country flavours in simple combinations on a contemporary plate – with signature smoked yellowtail, steamed Saldanha mussels, seared ribeye and springbok potroast. The main ingredient is enhanced by smoked garlic, aubergine, fennel, prune or potato puree. A trip to the walk-in cheese room to select your own board of artisanal Cape farm cheeses with preserves and breads rounds off a spectacular meal.
Address: Stellenbosch Kloof Rd
Tel: 021 881 3441
www.jordanwines.com
Terroir
Terroir opened in October 2004, and has since become one of the most sought-after gourmet destinations in the Cape Winelands, placing Stellenbosch prominently on the culinary map. The restaurant is located on Kleine Zalze, a family owned wine farm that has risen to prominence both in South Africa and internationally thanks in particular to its award-winning Chenin Blanc and Shiraz.
Address: Kleine Zalze estate, Strand Road
Tel: 021 880 8167
www.kleinezalze.co.za
TOKARA Restaurant
Tokara Restaurant, situated 400 meters above sea level on top of the Helshoogte Pass outside Stellenbosch, offers its guests terroir focused contemporary cuisine, award-winning wines and dramatic views over Stellenbosch and False Bay. The building housing the restaurant is a Cape architectural icon utilising glass, steel and stone. Multi-awarding winning chef Richard Carstens leads the kitchen team. The à la carte menu changes every season, while daily specials offer something new and exciting to returning guests.
Address: Helshoogte Rd
Tel: 021 885 2550
www.tokararestaurant.co.za
Waterkloof
A modern space featuring spectacular vistas, Waterkloof Wine Estate's signature restaurant is literally taking quality Winelands dining to new heights. Gorgeously appointed in a glass promontory, the restaurant extends from the chic wine tasting lounge and gravitational cellar. Within its walls, Chef Gregory Czarnecki whets the appetite with contemporary classics, complemented by the estate's elegant wines. The restaurant's open-plan kitchen emphasises the Waterkloof winemaking philosophy of openness and transparency. Although contemporary and stylistically diverse, each of the Waterkloof wines carries a strong core of elegance and integrity, and that is exactly what the food is all about – classical cuisine with a modern French twist.
Address: Sir Lowry's Pass Road, Somerset West
Tel: 021 858 1292
www.waterkloofwines.co.za
Recommended Posts
September 22, 2020
September 21, 2020
September 12, 2020